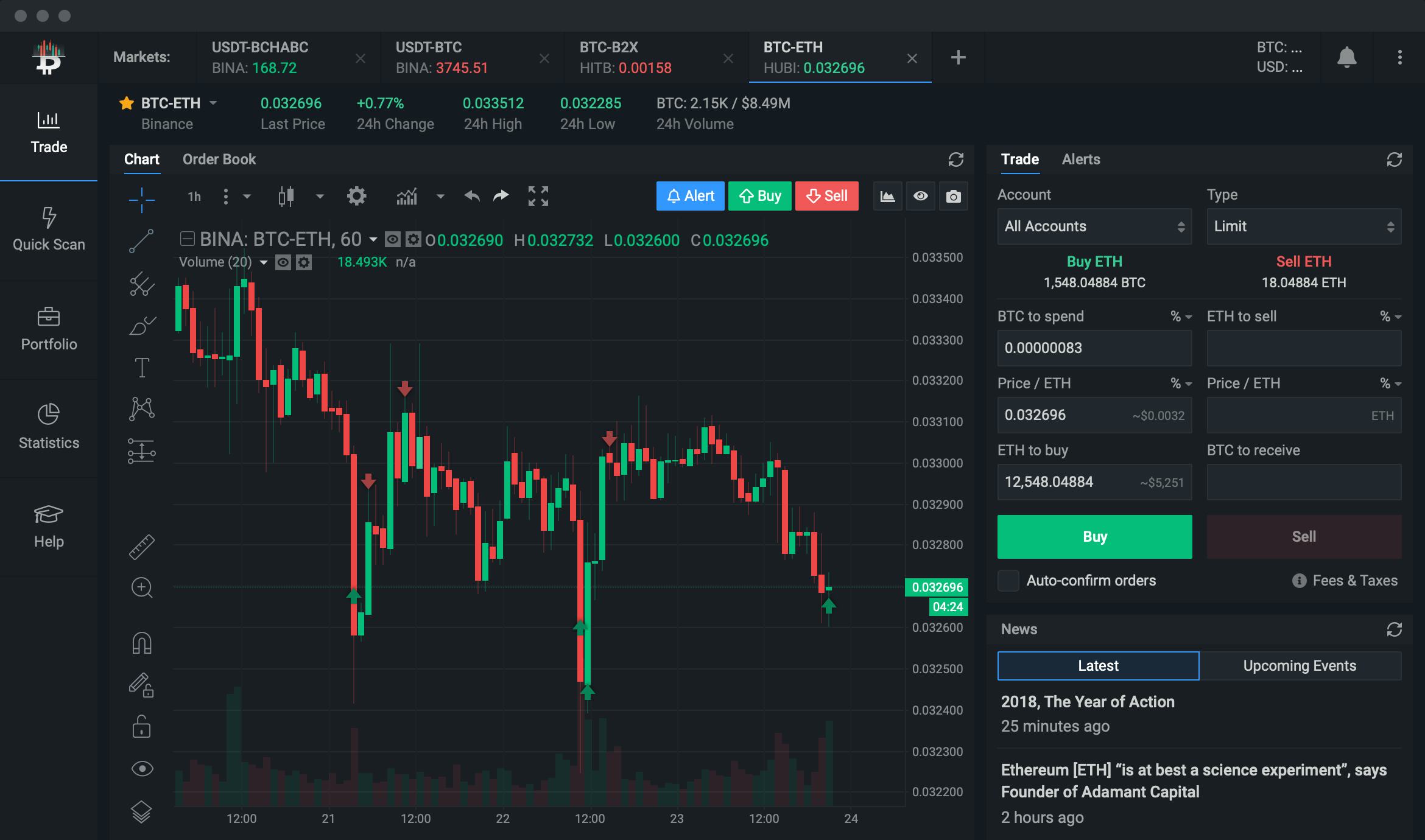 March 9, 2019
Trading with Crypto Base Scanner Now Possible with Version 2.4.6
Last week, we announced that Crypto Base Scanner will be changing gears for a better crypto trading experience. Well, the ride happened really fast! Just yesterday, we were able to successfully release the new version with highly exciting features.
In case you haven't checked your CBS dashboard yet, here are the things that may beautifully surprise you:
We now have a NEW TRADE PAGE!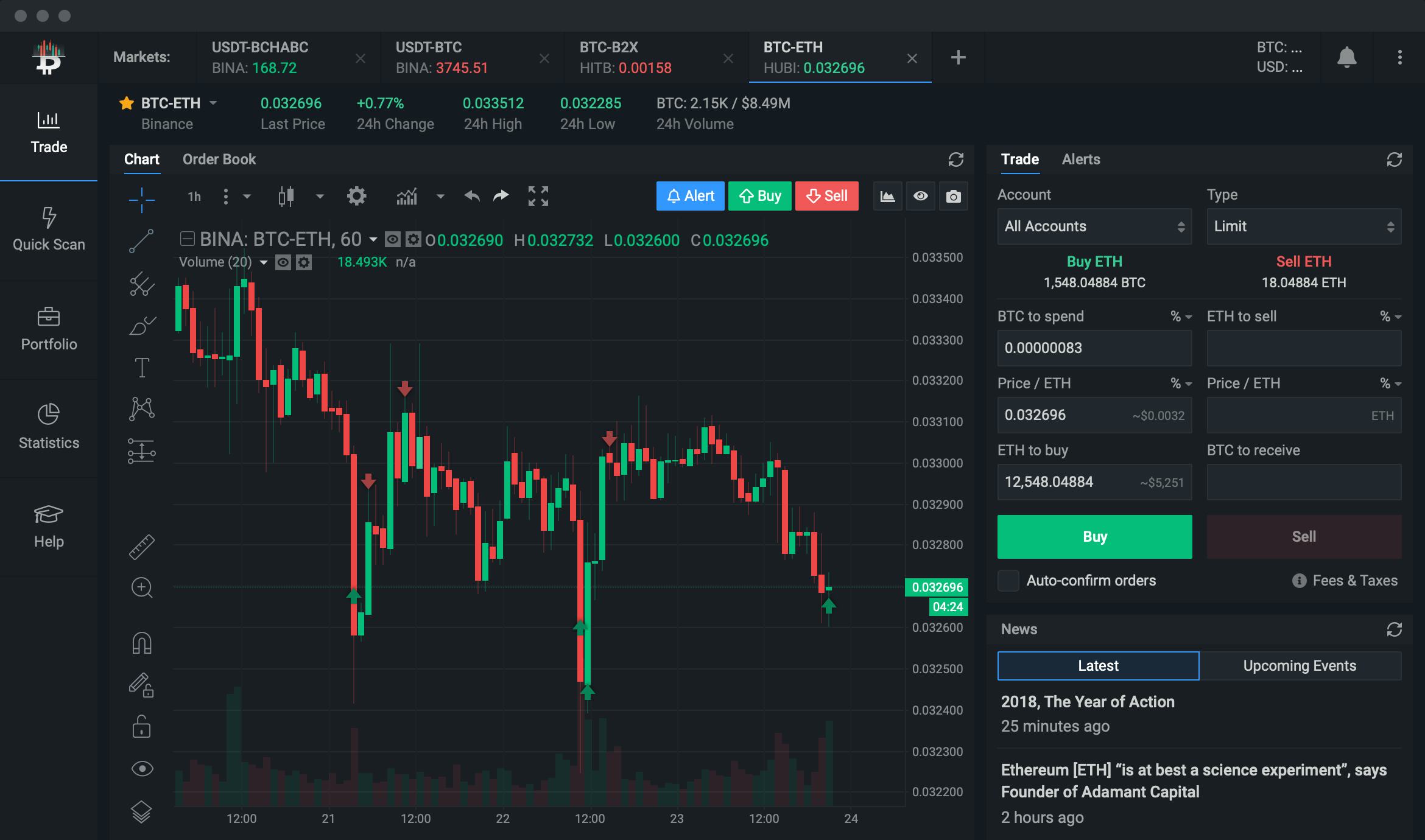 We keep our promises. Since it is our goal to make trading easier for you, our Crypto Base Scanner team has devoted much of our time, knowledge, and effort into developing this newest version which gives you easy access for trading. You will no longer need to open a separate tab for your crypto exchanges because the CBS platform is already enough to give you not just base alerts but also the opportunity to trade with the highest informed decisions.
At the center of our Trade Page is a MARKET-SELECT POPUP
Being traders ourselves, we can fully empathize with our clients. We know how even the most minute details can prevent us from reaching our maximum trade potentials. By carefully observing our own trade behavior and by listening to the the suggestions offered by the Crypto Base Scanner subscribers, we have decided to put the Market-Select popup right at the center of the trade page.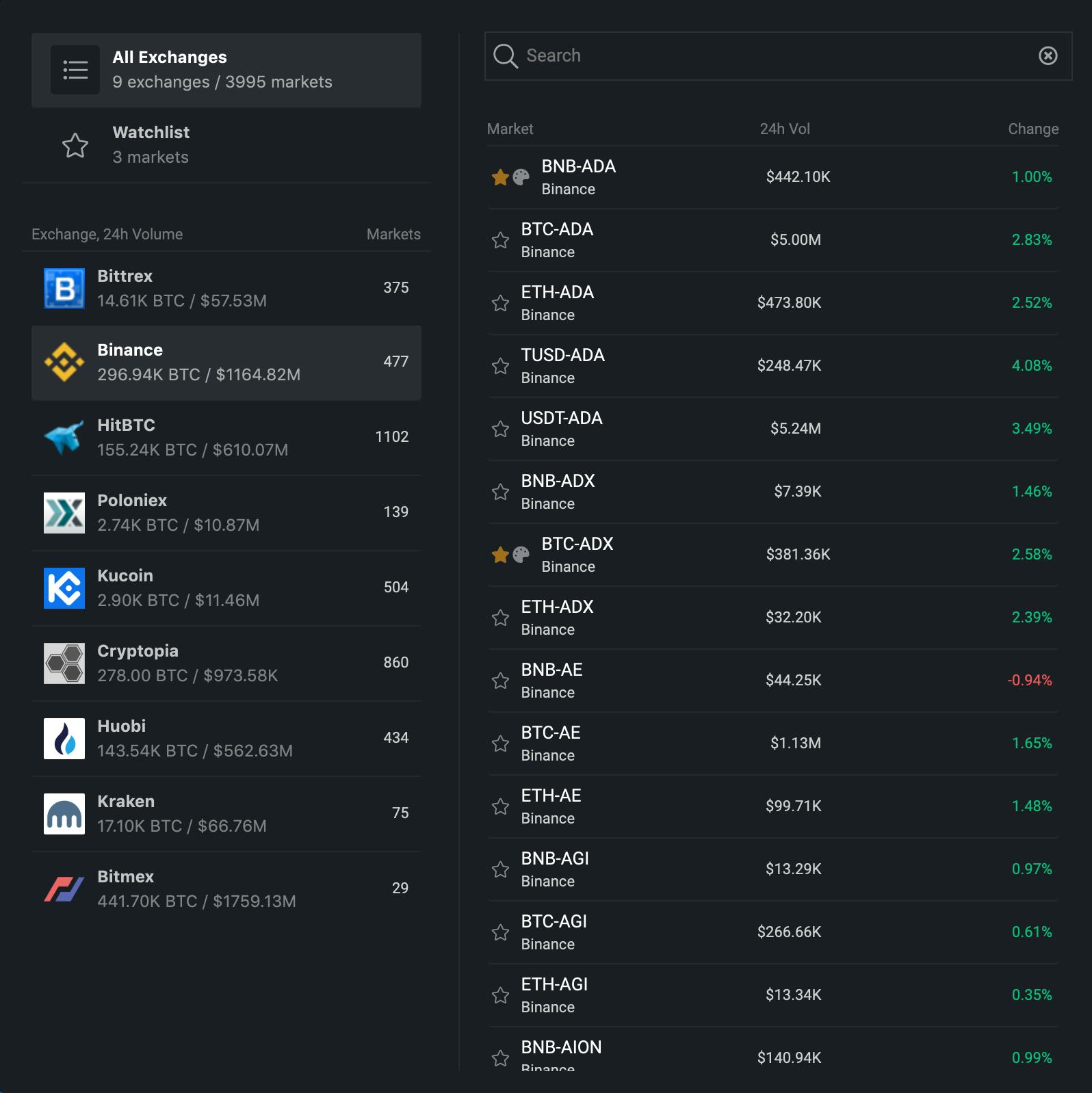 If you trade directly using your chosen cryptocurrency exchange platform, most of them would give you a full view of the market charts. Although this has its own advantages for specific coin trading purposes, we thought it best to give you an easier way of finding the best markets for entry by placing the market-select popup right beside the market chart.
This way, you can easily view the active markets across their corresponding market charts and see which could potentially be a profitable place for your own strategy. The popup lets you scan through different coin markets without having to scroll down or leave your current page.
Another thing that's awesome with this new feature is that it allows you to see the different trades happening across the different crypto exchange platforms without having to go through different tabs or repeatedly logging in to your coin exchange site. For as long as your exchange accounts are connected to Crypto Base Scanner, you will never have a difficult time transferring from one exchange to another or trading from one market to another.
You can easily get price overviews with the 24-HOUR HIGH & 24-HOUR LOW INDICATORS
Day trading can truly be quite confusing when you have no idea about price trends. Shall you go way below the current sell price or would you give it a shot for a higher price level? By having the 24-hour high and 24-hour low indicators right at the header of the trade page, you can easily approximate the price range by which you will sell or buy a certain amount for a particular coin. Having these indicators will help you craft a better trade movement that goes along with your strategy. Looking into these indicators during decision-making would also make sure that orders can get filled at a much faster rate.
You can now SAVE MARKET LAYOUT
Cryptocurrency trading implies the need for understanding and remembering an overwhelming amount of data, the complicated chart movements, and the numerous digits of coin prices. But can we really remember everything at once and be able to compare one chart with another from a different exchange or a different time?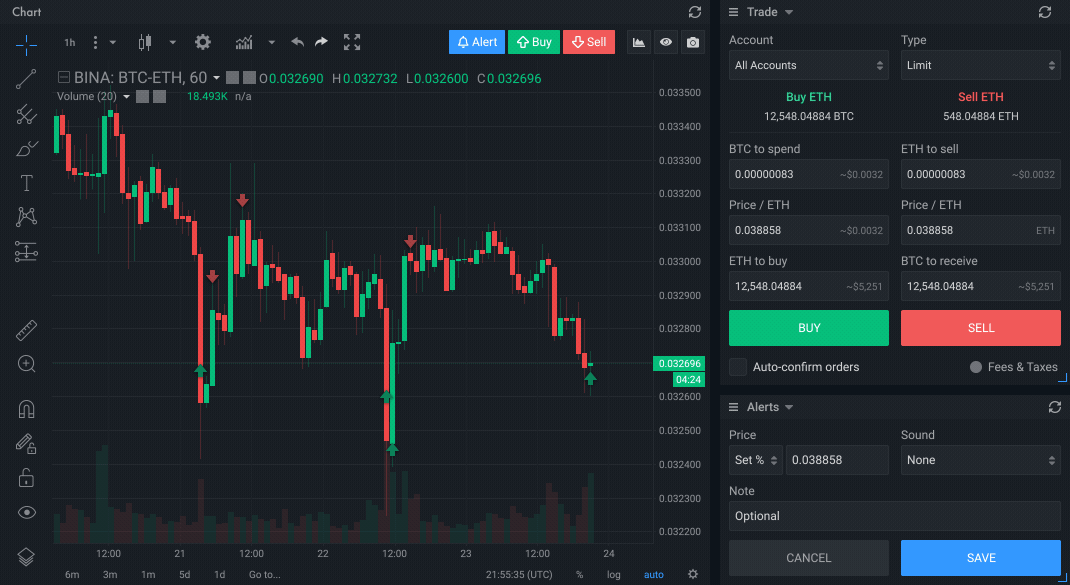 Thankfully, we now have the Save Market Layouts. With this new feature, you can have the option to save all the charts, layouts, symbols, and intervals that you are modifying and working on. You can also have the option to label your saved chart layout so that you won't get confused with all the items on your dashboard.
There is now a WIDGET for BROKEN BASES
If you have already forgotten, be reminded that we are primarily alerting you every single time that bases have been broken or when certain coin markets have dropped their prices down to your preferred percentage. You may be subconsciously aware of the QFL strategy while trading, but seeing the information about bases on the same page as the charts would make the analysis a lot easier and the decision-making a lot wiser.
The widget for base information shows you various details that are necessary for following the QFL strategy. Among these are the percentage drop below the median, the number of bases respected, the median drop and bounce percentages, and the success rate of drops bouncing back to base, among others.
With this widget, you also have an option to choose how the algorithms will work according to your trade strategy and schedule. Choosing the Day Trading Algorithm will show you charts on an hourly basis with most number of bases and the lowest drops. If you want to go on a safer side, you can also choose the Conservative Trader option which will show 2-hour charts with fewer bases yet with mostly higher drops.
You can now see your break-even point with the BREAK EVEN CALCULATOR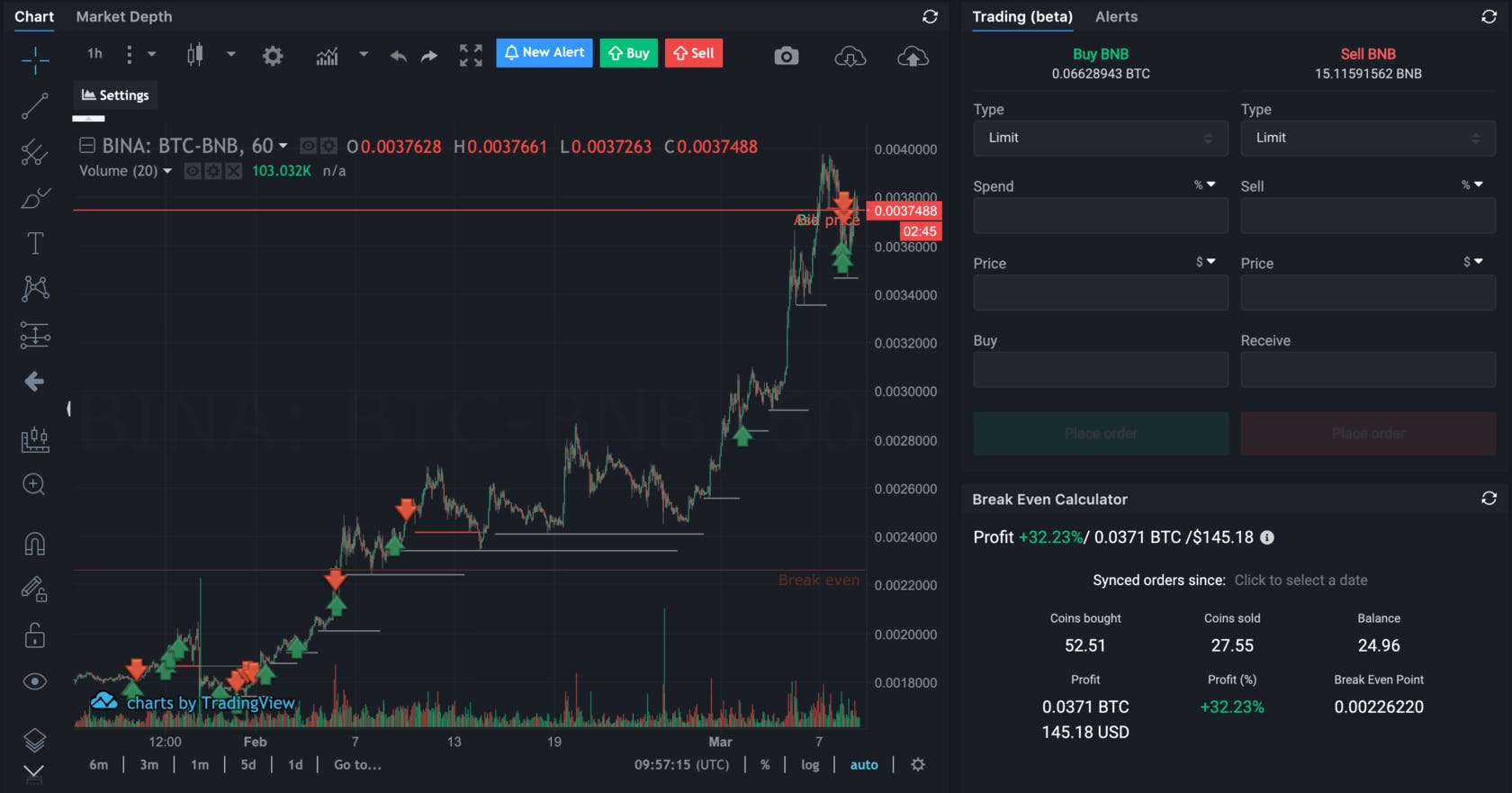 When you have a lot of coins in your trade, it would be almost impossible to accurately determine your break-even point for a certain cryptocurrency. With this very cool feature in the Crypto Base Scanner platform, you can now immediately see if you are either on the losing or winning end.
The widget is always updated because it is automatically synced with all your trades. Even when you are dealing with a bunch of coins and orders, the Break Even Calculator can still immediately show you the profit or loss in terms of percentage, BTC, USD, or in other units of a particular digital currency. Apart from that, the widget also gives you the break-even point so that you can easily asses whether your decision to sell or buy at a certain price level would suffice to give you a profitable mark.
You get updated with the CURRENT NEWS that may affect price movements
Right beside the Break Even Calculator, you will find the News widget. The News widget basically contains up-to-date information that is relevant to the cryptocurrency market. It is powered by CryptoPanic which is a news aggregator platform that collects various data, media feed, and blogs that could affect the growth, rise, or drop of certain coins.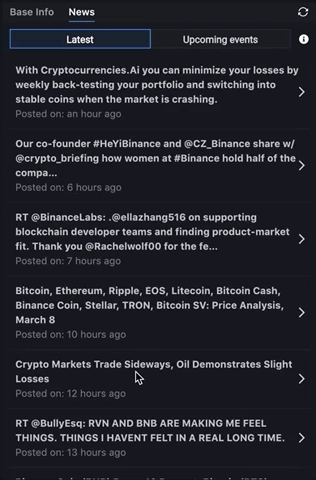 This can be a very powerful tool when you are looking for opportunities to enter or get out of coin markets that may be affected by crypto community behavior, government regulations, or technological updates.
The News Widget also features a calendar that is powered by CoinMarketCal which basically offers a calendar for all the relevant cryptocurrency and blockchain events such as conferences, system updates, hard forks, meetups, and so much more.
Your BALANCE CAN NOW BE HIDDEN for security and other personal purposes
Trading cryptocurrencies is a very mobile venture. With Crypto Base Scanner, you can do it using your desktop, laptop, or even your smartphone. This only means that you can monitor your trades or even participate in crypto sales while you are in the office or even in transit going somewhere.
We understand the dilemma concerning the disclosure of our crypto assets. Isn't anonymity and security the basic characteristic of the blockchain technology? A single mistake of having our digital coin holdings exposed to anyone around us can potentially cause future problems in various aspects such as financial security, legal dealings, and even social relationships.
With the new version of Crypto Base Scanner, you now have the choice to hide the balances from your dashboard. Simply click your balance at the header of the trade page in order to hide the details from your sight or anyone's view. This way, you can freely look at charts, examine bases, or trade coins without being worried about the little yet very important details.
The system is much more efficient with several BUGS FIXED
Growth will never happen when we continually deny about shortcomings. As in any technological venture, bugs can just suddenly arise and affect our system's operations. Before releasing Crypto Base Scanner's Version 2.4.6, we have made sure that the previously identified bugs have already been fixed.
Our business is not merely about getting more subscribers without responding to your needs. Our responsibility extends to making sure that our platform works at its best and that our intended results are achieved with efficiency and accuracy.
Just on the first day of releasing this new version, we have already received highly positive comments and messages concerning the amazing changes that we have taken for the realization of this goal. It was indeed worthy to have changed our gears for a faster drive and better destination.
If you think that there are more things to be addressed or if we have missed anything during the process of development, please do not hesitate to contact us. We will openly accept your suggestions and work on the necessary recommendations. Please leave us a message at our support desk.